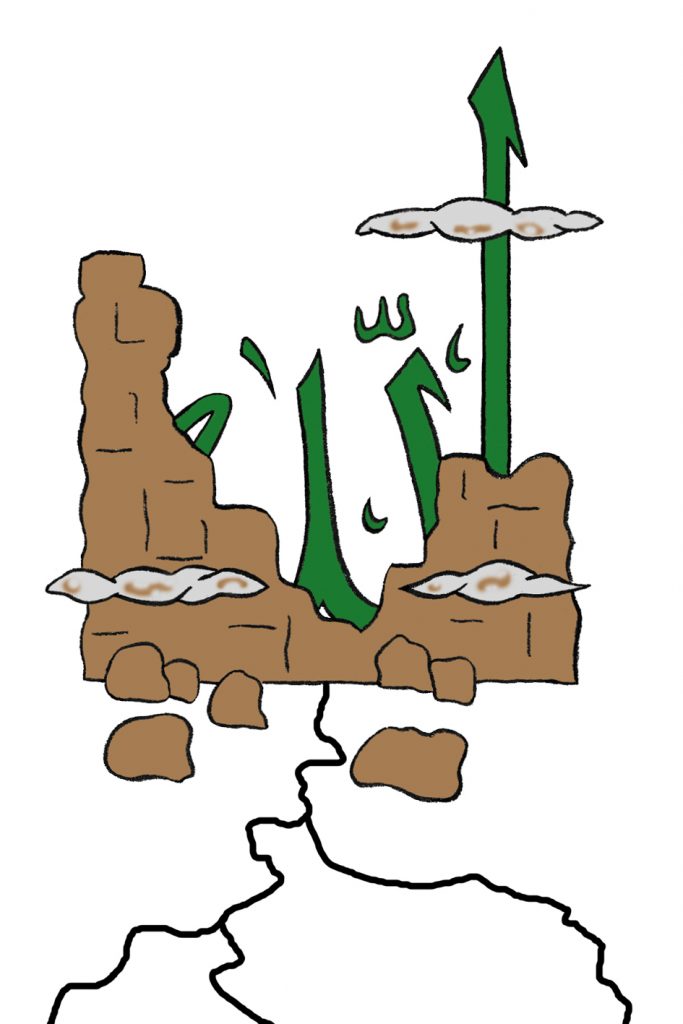 I find myself drawn to Allah's names of majesty and wrath such as al-Azim, the Tremendous. Daniel chooses strong words and images on these pages: earthquakes, sinews, mountains, cracks and dust.
Through the cracks wrought by earthquake and mountain-splitting, there is always the leavening of light which Daniel invokes using a Leonard Cohen quote. Daniel could have gone back to Rumi for the original but it is in the spirit of this wonderful book to embrace variety and diversity wherever possible.
Just as light brightens cracks, the book reminds us how the awe expressed in the Prophet Muhammad's earnest prayer of submission was softened by him allowing his beloved grandsons Hassan and Hussein to play on him as he prayed.
Meditating on Daniel's picture of a wall destroyed by an earthquake to reveal the name 'Allah' behind, I recall the Hadith Qudsi "I am with those whose hearts are broken for My sake" and I dig out these words of Rumi: "Wherever there is a ruin there is hope for a treasure – why do you not seek the treasure of God in the wasted heart?"
I recall the powerful idea of being broken (shikast) as an initiatory stage on the path to God, which seems closely related to al-Azim. Daniel echoes the question from the Quran: Who could give life to bones that have crumbled to dust? It will be inspiring for readers to contemplate the answer.
I think that The 99 Names of God by Chickpea Press is a tremendous achievement, and I hope it will bring light and hope to many people.
~ Matthew Bain