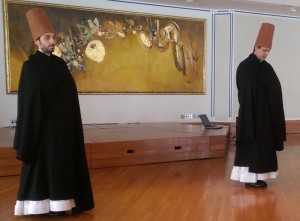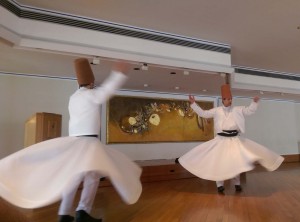 We've been busy recently presenting workshops to a wide audience!
Firstly, we did a whirling workshop for secondary school students at the Ismaili Centre in London. The teachers had created a wonderful day exploring The Conference of the Birds by Attar, and asked us to participate in the dramatic representation of the birds' journey through the beautiful Ismaili centre! Uzma and Daniel were asked to play lost dervishes that students came upon as part of the journey. The day finished with a presentation by Chickpea Press on the origins and symbolism of whirling in the Islamic tradition, followed by a demonstration by Sadat and Daniel. The students asked some excellent questions during the Q&A session and it was a fun and inspirational day for all. Many thanks to the Ismaili Centre's team of teachers for putting together such an enjoyable day!
Whirling presentations for children are a new addition to our workshops. See our workshops page for more information.
And we saw a lot of you at Bradford Literature Festival! So wonderful to see some returning, smiling parents and children from our workshop last year! We had a jam-packed 99 Names of Allah storytelling session at the atmospheric Waterstones bookshop — it's amazing how many people can be crammed into a bookshop (sounds like the opening of a joke…). We have some footage from the day that a kind audience member shared with us below. Many thanks to the Bradford Lit. team for a wonderful festival!
If you were there, let us know what you thought — and don't forget we are available for workshops wherever you might be. More on our workshops page.